Babies & Books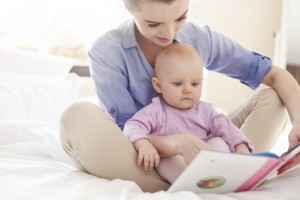 February 6th is a legitimate national holiday, and if you're just discovering it, we're really excited to be bringing it to you! The first Saturday in February is Take Your Child to the Library Day, or TYCttLD. It might not make a great acronym, but the concept is truly valuable for families and little ones of all ages.
These aren't your parents' libraries.
This incredible holiday was started by two Connecticut librarians in 2011, and since then it's spread organically throughout the United States. The goal of TYCttLD is to make sure that kids and parents know about all the community resources and programs offered by their local libraries. It's also important for everyone to see that the library isn't all about quiet time and checking out books. There's a whole lot of fun (and learning) to be had at the library.
There's so much to see!
TYCttLD is the perfect day for your child to sign up for that momentous first library card. It's also a wonderful opportunity to spend some time exploring the aisles as part of a celebration, rather than in the rush of errand-running. Depending on where you live, your local library might be hosting special activities like author visits, story times, book character visits, or giveaways this weekend. Since the day chosen to celebrate TYCttLD is flexible and chosen by each library, you'll want to call ahead if you'd like to catch this type of extra programming.
Why Take Your Child to the Library?
– They have way more books than you!
– In-the-know librarians give great personalized reading recommendations
– Kids learn to appreciate shared resources
– Frequent library visitors read more books
– All the benefits of the library are free!
– Libraries are innovating and need your support
But my child is a baby…
You might be wondering what a library holiday has to do with the new moms and tiny babies of Beyond the Bump. The truth is, you can never start too early when it comes to creating an environment rich with literacy. The benefits of reading aloud to infants are clearly documented. For this special day, many libraries across the country will have activities designed just for babies. They might include lap-sit story times, tactile experiences, opportunities for little ones to meet characters from books, and selections from toy-lending libraries. If you're a new parent, you might be amazed by the programming provided by your local library.
Benefits of Reading to Very Young Children
– Reading helps you bond with your infant while he or she is very small
– It integrates reading into your daily routine to make a positive habit
– It helps develop early literacy and speech skills
– It reinforces the parent as a child's first teacher
– Kids whose parents read to them do better in school
But my baby doesn't like books!
Tonia Burton, Children's Services Consultant for the Monroe County Library System in Rochester, New York, hears this all the time. "Even if they're active and won't sit, it doesn't mean they don't like books." She recommends reading aloud even when it seems children aren't paying attention. Different kids learn and engage differently, and some listen best while they're actively moving. That's not to say that every child loves books — even librarians know that's not the case. But kids who choose blocks over books will reap the benefits of reading anyway. When you read aloud, even across the room, your child will hear your voice and build vocabulary while you set a positive example.
Get connected!
The best way to find out exactly what your community's library has to offer — on Take Your Child to the Library Day and every day of the year — give them a call, stop in, or do a Google search for their website. You're likely to find helpful librarians, active social networks, and calendars chock-full of activities. The best way to help libraries stay protected well into the future is to use them, and to instill a love of reading in your children. It's just as important as brushing their teeth, and the benefits will last just as long.