Seminars & Workshops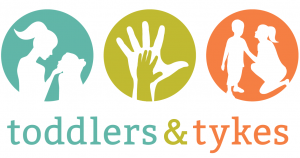 Our seminars and workshops are led by local experts and focus on topics related to toddlers, preschoolers, and kindergarteners. Sessions are typically 30 to 45 minutes long. We also have demonstrations throughout the day.
A schedule for 2018 will be released sometime in February. In the meantime, take a peek at our topics and presenters from last year!
Last Year's Schedule
Workshops: Salon A
10:15AM: Cooking with Kids
Presented by Chef Jeffory McLean
New York Wine & Culinary Center
11:15AM: Montessori at Home
Presented by Janice Hager
Trinity Montessori School
12:15PM: Creating an In-Home Art Studio
Presented by Gretchen Ettlie
Small Fry Art Studio
1:15PM: Everyday Ways to Make Learning Fun
Presented by Carol McCoon
Webster Montessori School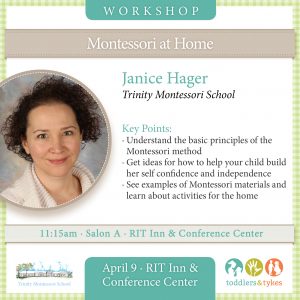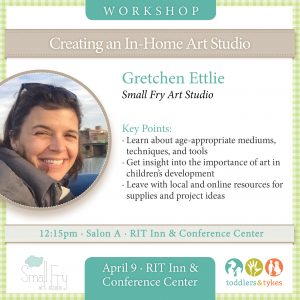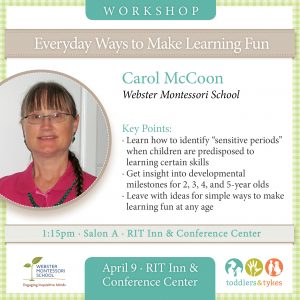 Seminars: Salon B
10:15AM: Mindful Parenting
Presented by Emily Rittenberg, M.A., M.Ed.
Nurture: Family Education and Guidance
11:15AM: Positive Guidance
Presented by Colleen Peno
Child Care Council, Inc.
12:15PM: Big Emotions and Your Little One
Presented by Jessica Fowler, LCSW
JLF Counseling Services
1:15PM: Sibling Preparation
Presented by Julia Sittig, MSW
Beautiful Birth Choices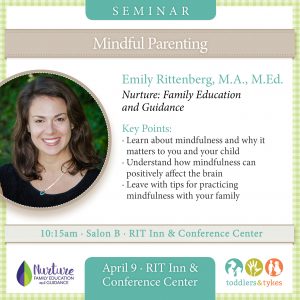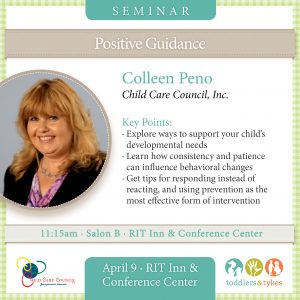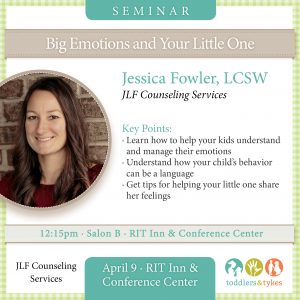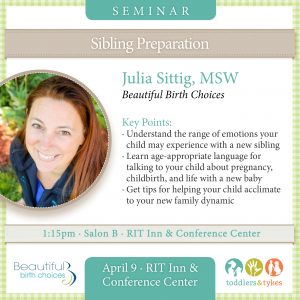 Seminars: Salon C
10:15AM: Picking a Preschool
Presented by Elizabeth Y. Stevens, Ph.D.
Roberts Wesleyan College
11:15AM: Ditching the Diapers: Potty Training 101
Presented by Michael J. Gavin, M.D.
UR Medicine – Bushnell's Basin Pediatrics
12:15PM: The Power of Play
Presented by Drew Beeman
Progressive Early Learning
1:15PM: KidSmartz: Child Safety
Presented by Debra Ortiz-Pardi
National Center for Missing & Exploited Children, NY Regional Office