Demonstrations
Our demonstrations are designed to teach a skill that you can take home and put into practice. Demos typically last about 15 minutes, and take place on our exhibitor floor. We also have seminars throughout the day.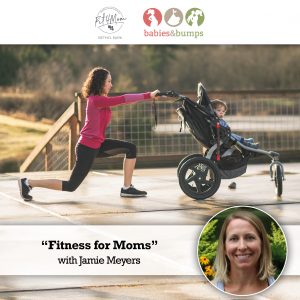 >10:30AM
Fitness for Moms
Presented by Jamie Meyers
FIT4MOM Bethel Park
What does working out before and even after baby arrives look like? Jamie Meyers will demonstrate simple and gentle exercises for moms and moms-to-be to stay healthy and de-stress during pregnancy and beyond. Learn practical applications to help maintain health, strength, and comfort for every stage of motherhood. Jamie started out attending the Stroller Strides class at FIT4MOM, is passionate about fitness, being a mom and supporting other moms, and is now an instructor herself.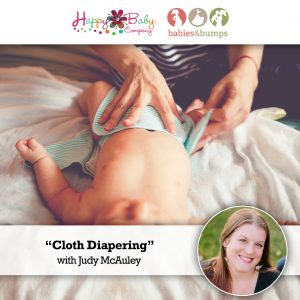 >11:00AM
Cloth Diapering
Presented by Judy McAuley
Happy Baby Company
This informative demonstration will outline the ins and outs of cloth diapering. Judy McAuley will highlight the different types of cloth diapers, the benefits and environmental impact of cloth diapering, and how to use, clean, and care for them. Judy and her family began their cloth diapering adventure in 2008 and she and her husband Brandon own Happy Baby Company and Green Cheeks Diaper Service.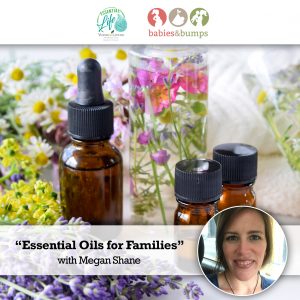 >11:30AM
Essential Oils for Families
Presented by Megan Shane
Creative Endeavors/Young Living Essential Oils
Essential oils are a great natural way to support a healthy pregnancy and growing little ones. Learn more about how to keep mom, baby, and kiddos happy and healthy through aromatherapy and topical application. This demonstration with Megan Shane/Young Living Essential Oils, will outline the benefits of therapeutic essential oils, such as supporting emotions, easing pregnancy pains, boosting the immune system, encouraging mom throughout labor, and supporting little ones after birth and beyond.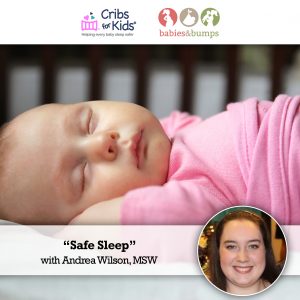 >12:00PM
Safe Sleep
Presented by Andrea Wilson, MSW
Cribs for Kids
Quality sleep is recognized to be the foundation for growth and development, so most parents focus on when and how much sleep their child gets. But sleep can also be hazardous for an infant, making it crucial to understand what the pitfalls are and learn how to create a safe sleeping environment. Andrea will demonstrate the American Academy of Pediatrician's Sleep Safe guidelines, and how to implement them. By following these guidelines, you will be providing your infant with a peaceful, safe place to sleep each and every time. Andrea provides infant safe sleep education to parents, communities, public health and medical professionals, and social service agencies. She also facilitates a support group for parents that have experienced the death of a child or infant, due to sleep-related tragedies, and coordinates individual grief-support resources.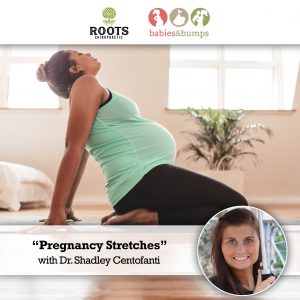 >12:30PM
Pregnancy Stretches
Presented by Dr. Shadley Centofanti, DC
Roots Chiropractic
Stretching during pregnancy is a great way to experience symptom relief, restore balance and proper movement, promote relaxation, and encourage optimal fetal positioning for baby. In this demonstration, Dr. Shadley will outline the stretches that are best for mom during pregnancy, explain how these movements help with optimal fetal positioning, and demonstrate five stretches you can do in the comfort of your home! Dr. Shadley is a member of the International Chiropractic Pediatric Association and is certified in the Webster Technique by the ICPA. She aims to help families, young children, and pregnant mothers experience the full benefits of natural, effective, and safe chiropractic care, while inspiring them to take charge of their health long term.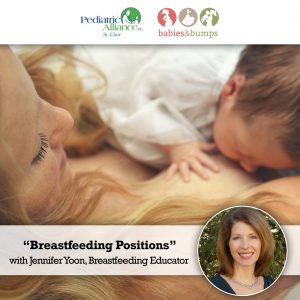 >1:00PM
Breastfeeding Positions
Presented by Jennifer Yoon, RDN, LDN, Breastfeeding Educator 
Pediatric Alliance- St. Clair Division
Proper positioning is crucial when it comes to breastfeeding. Join Jennifer Yoon for a demonstration on various holds for different positions, like cross cradle, football hold, and laid-back nursing. Get ideas for breastfeeding positions while in the hospital, learn how to position baby comfortably, and better understand the importance of positioning and how it can improve the breastfeeding experience. Jennifer has more than 20 years of experience working with children and families including 10 years at Children's Medical Center of Dallas, 8 years as Director of Early Education, and 5 years providing nutrition education, counseling, and feeding support at Pediatric Alliance, St. Clair Division.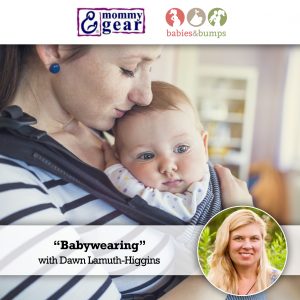 >1:30PM
Babywearing
Presented by Dawn Lamuth-Higgins 
Mommy Gear
Just because you've given birth doesn't mean you need to give up the closeness (or convenience) that carrying your baby provides. The right baby carrier allows both wearer and baby to feel safe, secure, and comfortable, with weight evenly distributed; and just as there is not only one body type, the same goes for baby carriers. In this demonstration, Dawn Lamuth-Higgins will explain and illustrate exactly how the parent/baby/carrier puzzle will fit together in a variety of pouches, slings, wraps, and other carriers. Dawn started Mommy Gear in 1996 because she wanted great looking clothes to wear while breastfeeding her first son and she thought other moms would, too. Years later, Mommy Gear now offers nursing apparel, breast pumps, baby gear, and more for families all over the world.