Demonstrations
Our demonstrations are designed to teach a skill that you can take home and put into practice. Demos typically last about 15 minutes, and take place on our exhibitor floor. We also have seminars throughout the day.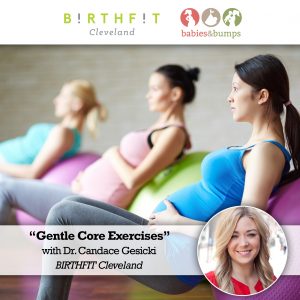 > 10:30AM
Gentle Core Exercises
Presented by BIRTHFIT Cleveland 
Curious about exercising during pregnancy and postpartum? Dr. Candace Gesicki, Regional Director, Coach, and Professional at BIRTHFIT Cleveland, will demonstrate effective core exercises that are simple and gentle for pregnancy and postpartum. Learn about the functional core and explore effective exercises for pregnancy and how to heal your core postpartum. Dr. Candace is a doctor of chiropractic, Diplomate of the American Board of Chiropractic Acupuncture, and placenta encapsulation specialist. She strives to help women (and men) of childbearing years reach a state of optimal health and well-being and believes that movement is an integral part of a healthy life.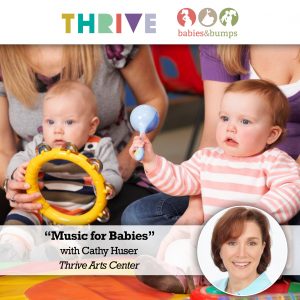 > 11:00AM
Music for Babies 
Presented by Thrive Arts Center
Discover how babies learn and grow through joy-filled musical play with Cathy Huser, co-owner of Thrive Arts Center. Babies are eager and receptive learners and Kindermusik is the perfect musical and developmental head start. Experience a Kindermusik Foundations Class (infant through 1.5 years) in this demonstration, where parents sing, play, and move with their little ones and lay the groundwork for a lifelong love of music. Cathy Huser has been a Licensed Kindermusik Educator for over 20 years and has been recognized as a top 1% Kindermusik Program worldwide every year since 2000. She and her husband, Kevin, opened Thrive Arts Center together and she loves that Kindermusik reaches every child's learning style and she see the tremendous impact that a continuing musical education can have on a child's development.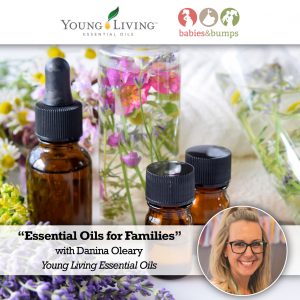 > 11:30AM
Essential Oils for Families 
Presented by Young Living Essential Oils 
Learn about toxin-free living, and how moms, moms-to-be, and families can replace everyday chemicals with essential oils in this demonstration with Danina Oleary, Wellness Advocate for Young Living Essential Oils. Explore how the oils work, how every home can reap their benefits, how to make roller bottles for baby's needs, and about incorporating oils into your pregnancy, delivery, and everyday life. Danina is passionate about raising babies and families in a chemical-free environment and being an advocate for natural living. As a mother of three children herself, she has successfully guided hundreds of families on how to simply and affordably make the transition.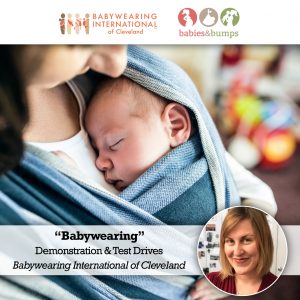 > 12:00PM 
Babywearing
Presented by Babywearing International of Cleveland 
Just because you've given birth doesn't mean you need to give up the closeness (or convenience) that carrying your baby provides. The right baby carrier allows both wearer and baby to feel safe, secure, and comfortable, with weight evenly distributed; and just as there is not only one body type, there are many types of baby wraps and carriers. In this demonstration with Babywearing International of Cleveland, president Wendy Haas will explain and illustrate exactly how the parent/baby/carrier puzzle will fit together in a variety of pouches, slings, wraps, and other carriers.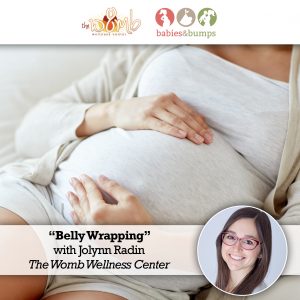 > 12:30PM
Belly Wrapping
Presented by The Womb Wellness Center 
Support your uterus and lower back during pregnancy and hasten healing and postural support in postpartum with this demonstration on belly wrapping techniques with Jolynn Radin from the Womb Wellness Center. Participate in this illustration of a traditional Mayan Faja and Malaysian belly bind; learn how to alleviate back ache and uterine heaviness during pregnancy, understand the benefits of belly wrapping for pregnancy and postpartum and leave with the skills to wrap your belly during both timeframes. Jolynn is a licensed massage therapist, birth doula, and owner of The Womb Wellness Center. With 12 years of experience working with pregnant and postpartum women, she is passionate about helping educate and support women to trust their bodies, make informed and confident choices, to take an active role in their healthcare, and most importantly love their bodies.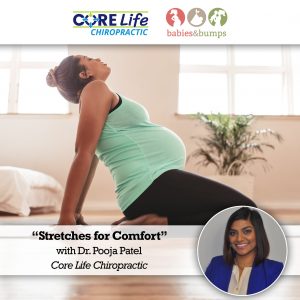 > 1:00PM
Stretches for Comfort
Presented by Core Life Chiropractic 
Learn how to decrease stress on the muscles and spine during pregnancy by exploring comfort stretches in this demonstration with Dr. Pooja Patel from Core Life Chiropractic. Discover how to help yourself and others by modifying daily activities to work with your body changes, how to decrease spinal stress, and find symptom relief.  Dr. Patel chose her career path after seeing how chiropractic care restored her mother's health and has always had a passion for helping people on their journey toward a healthier lifestyle. She has a strong dedication to her community and to guiding those around her to achieve better health.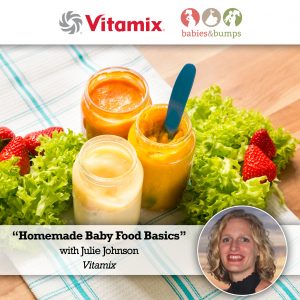 > 1:30PM
Homemade Baby Food Basics
Presented by Vitamix  
Preparing homemade baby food can be intimidating for new parents and may appear to be time consuming and labor intensive, but it doesn't have to be. Join Julie Johnson from Vitamix for a demonstration filled with simple recipes and techniques for healthy homemade baby food, including some useful Vitamix techniques. Understand the benefits of fresh foods for your baby, learn how to store the purees you make, and receive tips on introducing solids to your little one.